The In-Sight 2800 vision system combines deep learning technology with traditional rule-based vision tools to solve a wide range of applications. From simple presence/absence detection to advanced categorization and sorting tasks, In-Sight 2800 provides an easy to deploy solution for error-proofing.
Designed for factory automation, In-Sight 2800 enables manufacturers of all size to:
Increase product quality – Catch small, subtle defects with optimized error detection.
Maximize operational efficiency – Leverage your existing workforce and keep your lines running with fast, intuitive job setup.
Streamline integration – Take the guesswork out of image optimization and identify the correct combination of accessories in a few button clicks.
Comprehensive vision toolset addresses tasks of varying complexity
Integrating rules-based and deep learning tools in a single vision system, the In-Sight 2800 solves a variety of error-proofing applications. Use the tools individually for simple jobs or chain them together to solve more difficult logic sequences.
Unlimited classification outputs and regions of interest provide ultimate flexibility
Go beyond OK/NG. The powerful ViDi EL Classifier tool identifies and sorts parts based on multiple features or characteristics. This enables you to classify defects into different categories and correctly identify parts with variation. Along with the ability to assign multiple classifications, you can set up multiple regions of interest to inspect different sections of your image with a single trigger.
EasyBuilder development environment simplifies setup and delivers rapid turnaround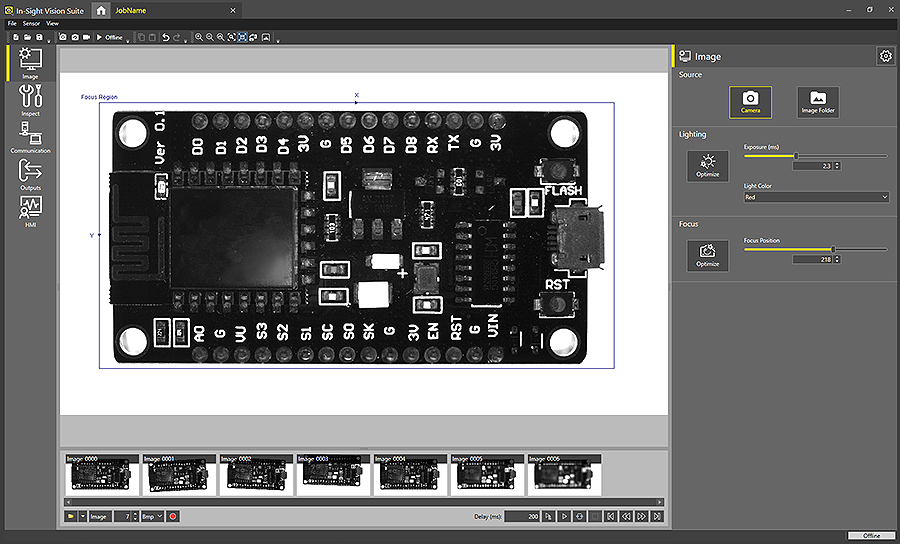 Plug in and get results in minutes with the In-Sight 2800 – no programming experience needed. The intuitive EasyBuilder development environment walks users step-by-step through application setup, enabling rapid turnaround from proof of concept to deployment.