From miniature conveyors moving small medical products to large tote systems for prescription fulfillment applications, Dorner has a wide variety of medical solutions.Recently, a customer needed a system for moving medical devices that couldn't be transported directly on a conveyor due to their flexible shape. We created a system using Dorner's FlexMove conveyors and 2200 Series Precision Move Pallet conveyors that allowed the product to travel on pallets.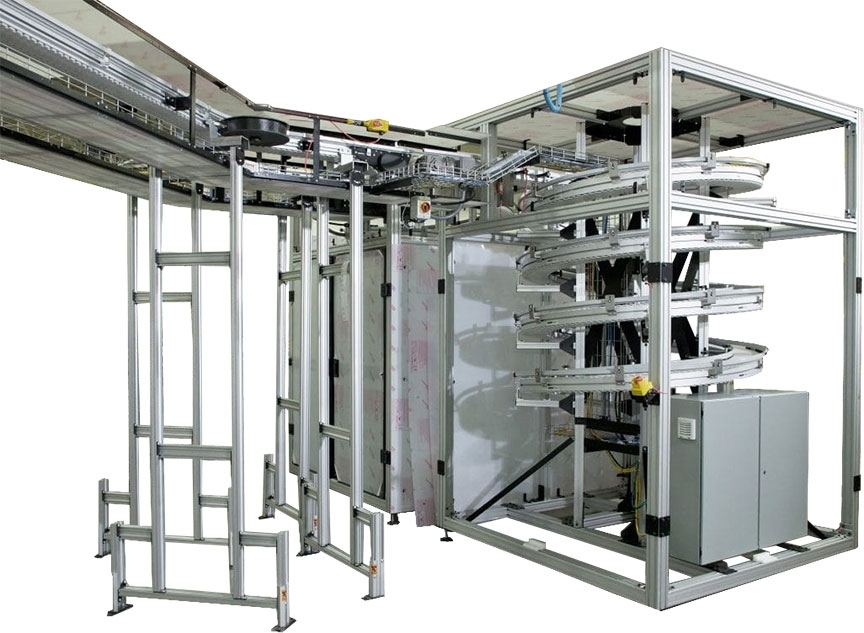 Dorner Custom Conveyor System for Medical Devices Features
The pallets are approximately 12" long and traveling at 40 feet per minute (or parts per minute) on most of the system.
The overhead conveyor and FlexMove Helix conveyors allow the pallets to move around existing equipment and provide employee walkthrough. These conveyors are about 9 feet tall.
Product stops are included on the 2200 Precision Move conveyors that control where the pallets can accumulate. Photo eyes watch for pallets backing up and stop them as needed. This prevents pallets from accumulating on the spirals or in corners where they could become jammed.
The system includes HMI technology to provide conveyor status and control. This is used for traffic monitoring and uses input from customer owned equipment to verify the system is running.