Compact HydraPneumatic Actuator HPX - Robot-Ready for Assembly, Forming & Clinching
HyperCyl Compact Satellite (HPX) Unit. HPX Series cylinders provide longer total and power strokes in a smaller overall length than traditional HPS units. The HPX series cylinder is a Self-contained system without the need for external reservoirs.
Fast-approach then high-pressure stroke permits a "soft-touch" with tooling contact and permits monitoring of stack-up height PRIOR to high-pressure stroke. Two pneumatic valves for operation make this the ideal choice for an efficient, low cost yet long-life pressing & forming cylinder.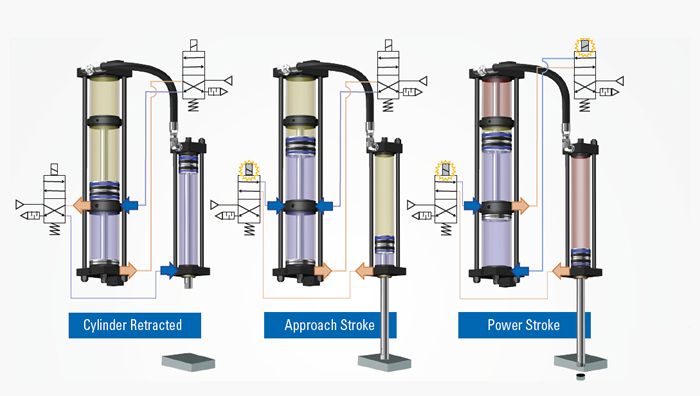 Hydra-pneumatic cylinders—also referred to as hydro-pneumatic cylinders, air-over-oil cylinders, and intensifier cylinders—combine the power of a hydraulic cylinder with the speed and precision of a pneumatic cylinder. The resultant mixture of force and control makes hydra-pneumatic cylinders ideal for various industrial applications, including punching, riveting, bending, and forming.
These mechanical devices work by compressing oil to produce high output force linear motion. First, they function like pneumatic cylinders, extending and retracting in response to the input of compressed air. Then, a second pneumatically controlled cylinder section seals off the oil section to intensify the internal pressure. Since oil is considered incompressible, the intensified oil pressure enables the piston to produce stronger output forces within our sealed design construct.
Unlike hydraulic cylinders, hydra-pneumatic cylinders do not require specialized hydraulic components and fluid, which makes them easier to maintain and repair. Compared to pneumatic cylinders, they offer higher output forces within a smaller profile and footprint, making them better suited for heavy-load applications. As a result, they are more energy-efficient than solely pneumatic or hydraulic units.
The HPX series cylinders offer our longest Total and Power Stroke series in a smaller package compared to traditional units. These self-contained systems do not need external reservoirs.
Key advantages of HPX series cylinders include:
They accommodate multiple mounting configurations.
They offer the widest selection of strokes.
They have the shortest and lightest work sections.
They enable multiple work sections to work from one booster.
They allow the power stroke to initiate anywhere within the total stroke.
They are available with custom strokes and rod ends.